Anveo Communicator
---
Exceptional Communication and Collaboration tool for business use.
Everyone knows Skype for its free Audio, Video and Chat. But Anveo can offer even more! Anveo Communicator is FREE and provides an effective way to communicate and collaborate with co-workers remotely.
Anveo Communicator can be used anytime, anywhere as a standalone application on any PC with Windows, Linux or Mac or straight from any web browser.*

Exceptional Features
High Definition Voice.

FREE

Communicator to Communicator Audio Calls

FREE

Communicator to Communicator Video Calls

FREE

Business grade XMPP based secure IM.
Make and receive phone calls.
Group calling with ability to add new call participants (phone numbers and Anveo users) at any time.
Interconnected with major IM Networks (Anveo, Google Talk and Jabber).
Company-wide contact list and extensions that are shared between all employees.
Personal XXXXXX@ANVEO.COM IM address to receive IM from external messengers.
Chat history is available anytime, anywhere from www.anveo.com.
Select custom CallerID for a call.
Instant access to Voicemail.
Transfer calls to extensions or another contact.
Powerful Anveo Call Flow integration (transfer a call or send a message to your Anveo Communicator).
Answer phone calls to your Anveo Phone Number using Communicator with flexible Call Handling options.

NEW

Desktop Sharing with other call participants!

NEW

Initiate calls from Communicator but speak from your regular phone.

NEW

Easily turn any call into a group call.

NEW

POWERFUL

Customize call experience for your callers by powering your Anveo Communicator with Anveo Call Flow! When somebody calls your Anveo Communicator they will hear your Custom Call Flow. There is no limit what can be configured using Anveo Call Flow: starting from a simple auto attendant or call screening to advanced Business-grade IVRs!
---
Download Anveo Communicator

---
Requires Adobe AIR runtime

---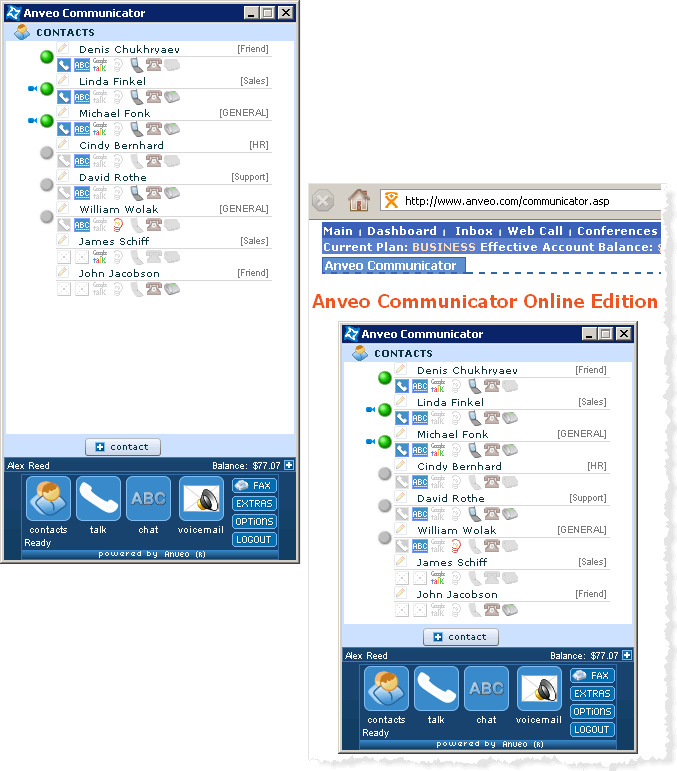 Access from anywhere
Anveo Communicator can be installed on Windows, Linux and Mac computers or it can be used right from a web browser without any software to install. Regardless of the way you access Anveo Communicator all of its features as well as your contacts, voicemails and extensions will stay the same without requiring any additional efforts from you.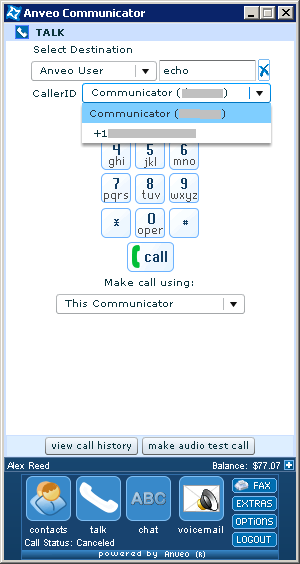 Call contacts or make phone calls
Anveo Communicator makes it easy to talk to your contacts or make phone calls. Communicator to Communicator calls are absolutely FREE and calls to phone numbers can be placed at always low rate.
Instant Messenger
Business grade Instant Messenger to securely chat with your colleagues and contacts. With Anveo Communicator you can chat with contacts from various IM Networks including Anveo, GTalk plus many more Jabber based networks. Your important discussions history is accessible online from anywhere in the World. Anveo Communicator uses strong encryption technique to protect your conversations by encrypting both incoming and outgoing messages.
Only Communicator to Communicator chats are encrypted.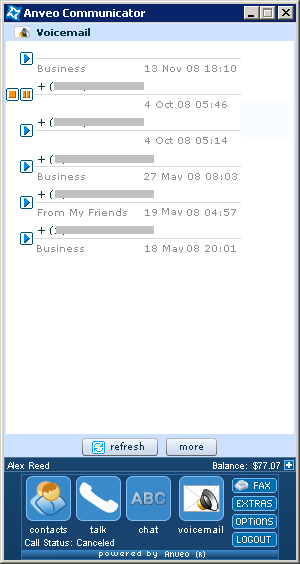 Access to Voicemail
Anveo Communicator provides convenient access to your Voicemails.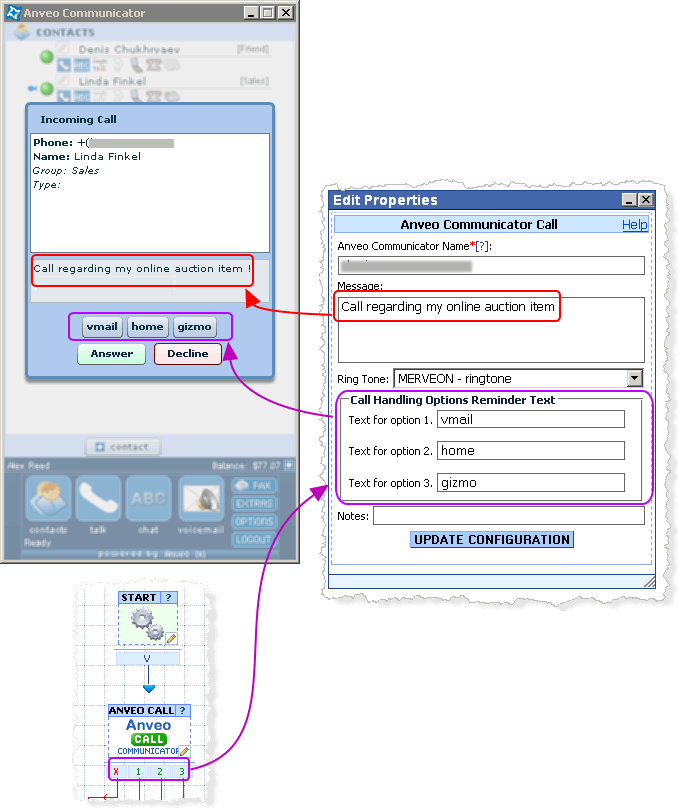 Anveo Call Flow Integration
Anveo Communicator was designed to be fully integrated with powerful Anveo Call Flow engine. Using Anveo Call Flow you can transfer any call to your Anveo Communicator and configure a custom text message to be displayed in your Anveo Communicator window to help you identify the nature of the call. To achieve greater flexibility additional call handling options can be easily configured. Finally, Anveo Call Flow allows you to send IM message to your Anveo Communicator.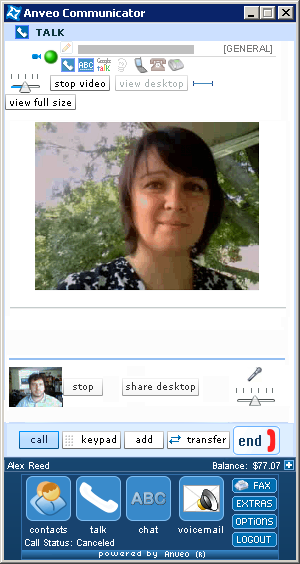 Free Video Calling
Make your conversations more productive by using Video Call feature. Video calling is easy, fun and FREE!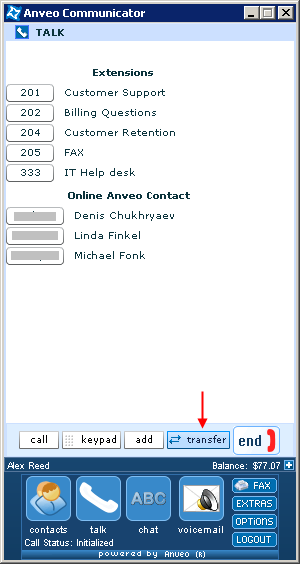 Call Transfer
With a single click of the mouse you can transfer active call to another Anveo Communicator or to any extension within your organization.
Receive Phone Calls
With Anveo Communicator you can NOT ONLY make and receive calls to/from other Anveo users but also answer phone calls made to your Anveo Phone number!
Moreover, by using powerful Anveo Call Flow integration features you will know the nature of the call before answering it and get more options to handle incoming call than simply Answer or Decline.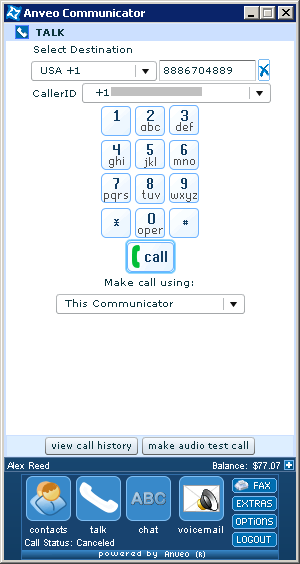 Make Phone Calls
With Anveo Communicator you can make phone calls worlwide! Enjoy cristal clear sound and low rates.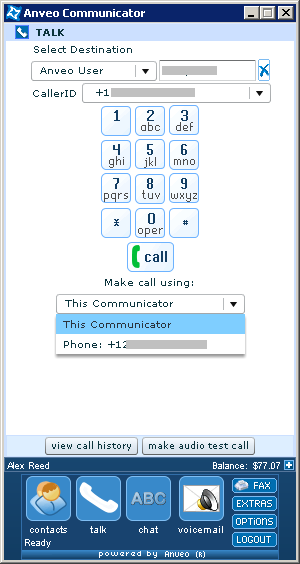 Use your phone
You do not have to use a microphone with headset to call your contacts or other phone numbers. You can initiate calls using Anveo Communicator but speak from your regular phone.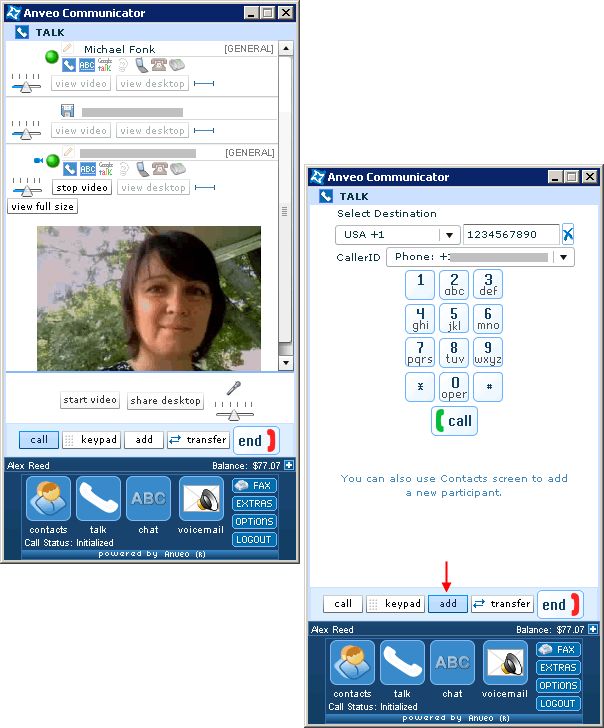 Group Calls
You can easily add more call participants into active call at any time and thus turning the call into a group call. You can join the call another Anveo Communicator as well as any phone number on demand. During the group call any call participant can broadcast their video and share their desktop as well as add another participant if needed.
* - Adobe® Flash® is required.