Anveo Communications Suite

Phone Numbers Worldwide

SALE

Web Calls

'Click to Call' ContactMe Buttons

Active Calls Dashboard

NEW

Integrations
Conference Calls - Worldwide Coverage
---
Share exciting news all at once with joint friends and family member phone calls. No need for participants to dial into the call and no PINS required. Anveo will dial conference call participants and join them to the conference call at the scheduled time.
Conference call
Conference Call Recording » Record your conference call and access the recording online at any time.
Schedule » Schedule your conference in advance.
Participants Management » add individual participants or add an entire contact group before or even during the conference call.

NEW

Real-time controls to Mute, Unmute and Drop any conference call participant during the conference.

NEW

Conference call participants can 'Raise Hand' and bring originator's attention to be unmuted.
Works with your ContactMe button » Fully integrated with Anveo ContactMe button.
Allow conference call participants to join the conference call from your website using an Anveo ContactMe button.
Convenient online interface to set up and manage conference calls.
Manage conference calls online.

---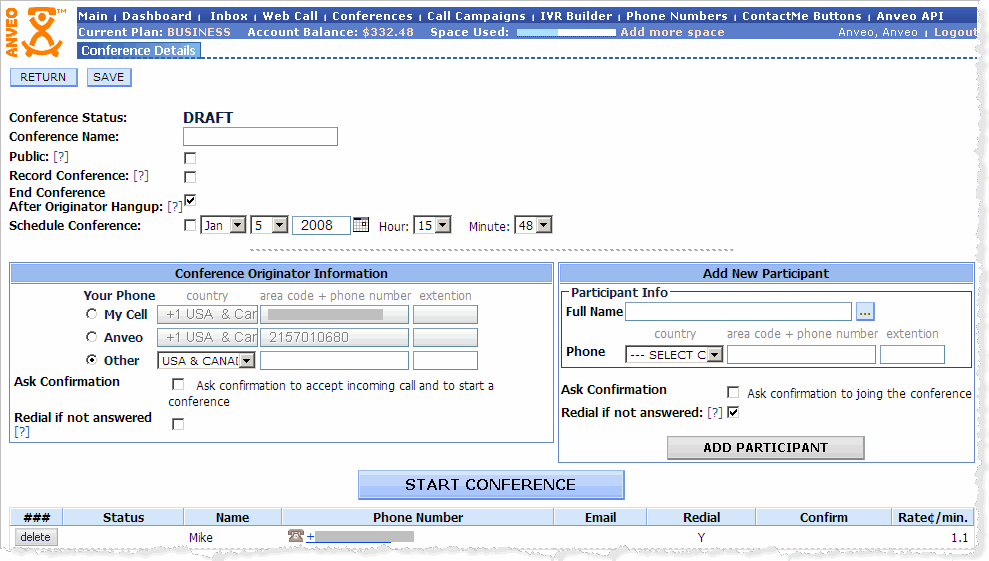 ---