Anveo Communications Suite

Phone Numbers Worldwide

SALE

Web Calls

'Click to Call' ContactMe Buttons

Active Calls Dashboard

NEW

Integrations

Day/Time Call Control
---
Take full control of WHEN and HOW to handle incoming calls.
Chances are you operate on some kind of a daily schedule. Before 6:00, you may want to speak with family members and business associates who call. After 6:00 and on weekends, you may prefer to allow voicemail to take business calls but still allow family members to speak with you. Anveo gives you this dynamic, flexible approach to call handling and even allows you to associate different schedules on a per-caller basis.
How it Works - Day/Time Call Controls
Schedules for call handling can be created using Anveo's friendly web-based setup tool. Anveo compares the day and time of incoming calls to the schedule(s) you have set up. The call is then handled based on the options you've configured. You can use multiple Day/Time Call Controls to implement even complex schedules.
Example
Simply select Weekday and Hours of the day.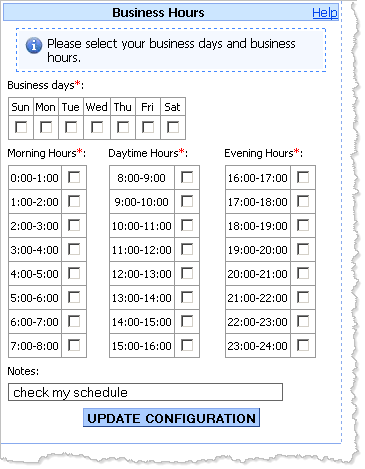 TIP! To implement exceptions or different Day/Time schedules for known callers, you can use Anveo's Phone Check feature along with the Day/Time Call Control feature.