Voicemail
---
Allow Anveo to mashup all of your voicemails into one easily managed online location.
As Many Voicemail Boxes as You Need
Anveo places no limit on the number of voicemail boxes you can use. Store all of your voicemail online in one location that you can easily configure to your needs.
Flexibility
With just a few clicks of the mouse, give each voicemail box a name, greeting, language and maximum message length. Configure your voicemail box to automatically send voicemail messages to your email or even to disregard messages from certain callers.
Customizable
With Anveo you can use custom audio messages to replace Anveo's audio prompts and thus easily adjust Voicemail to your needs and make it sound in any language.
new

Voicemail Transcription
Anveo can automatically transcribe your voicemail messages into text delivered to your email for $0.15 per message. Human transcription is also available for $1.2 per message.
Online Management
Download, forward, organize and annotate all your Voicemails using Anveo's intuitive web based interface.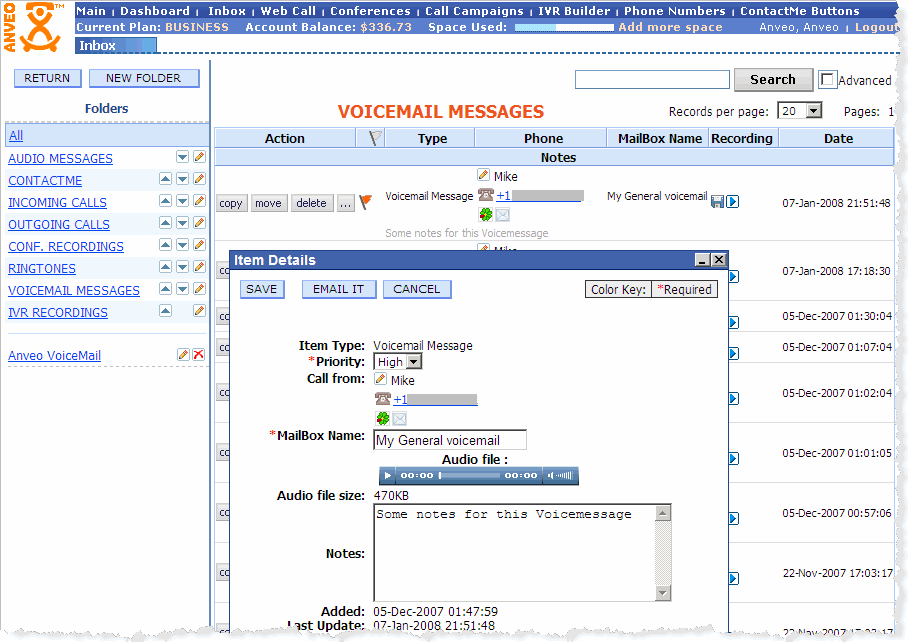 ---
Examples

Call Flow example with multiple Voicemail call controls, each control representing one voicemail box.

---