Powerful Call Recording Solution
---
Enterprise level call recording solution with multiple file storage options including Anveo.com, Amazon S3 and FTP as well as HTTP integration. It can be configured to automatically record incoming calls or outgoing calls for a given number or user/employee.
Multiple File Storage Options.
Call recordings can be stored either at Anveo.com or at customer's Amazon S3 or FTP server.
Various Audio Encoding Options
Call recording can be stored either in uncompressed wav or encoded into High Quality MP3 or Low Quality MP3.
Configurable Filename
Anveo Call Recording solution offers a way to customize call recording file name. The file name can be constructed from various fields such as CallerID, destination phone number, timestamp, call duration, call direction, account number, anveo phone number etc.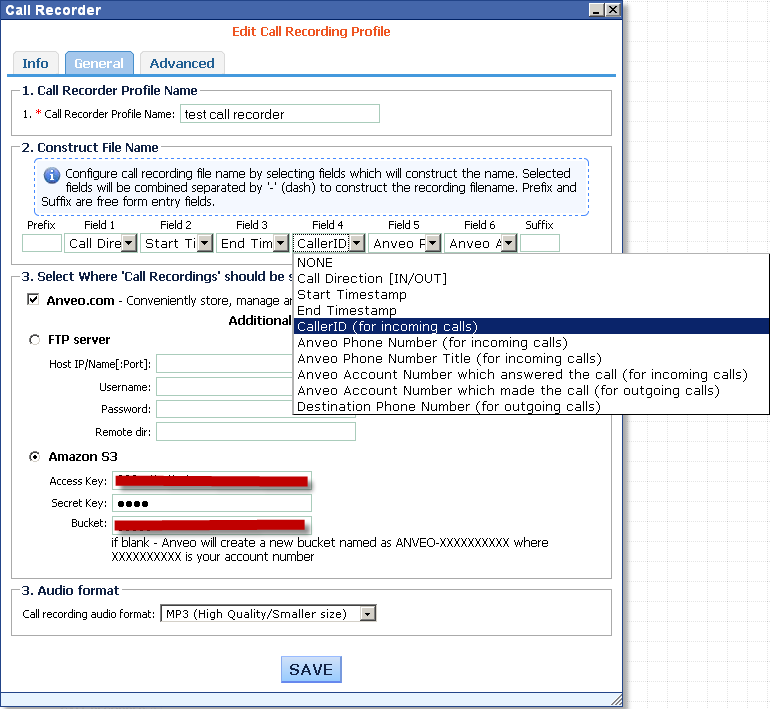 Integration with Third Party Systems
Anveo can automatically notify a third party system using HTTP when a new call recording is ready so it can be processed further (speech recognition, call transcription, voice tagging etc).
Store and Manage online
Call recordings can be stored at Anveo.com and they can be easily listened to and managed/organized online at Anveo Inbox.
More screenshots