Day/Time Call Control
---
Take full control of WHEN and HOW to handle incoming calls

Most people have a schedule on when they prefer to get incoming calls. It is also true for small and large businesses.
Anveo helps you to implement your Weekday/Time incoming call schedule. Based on the schedule you can transfer the call to your mobile phone, or to your home phone, or to Anveo voicemail or do something else.
It all can be configured using Anveo Visual Call Flow designer and Day/Time Call Control.
Example
Simply select Weekday and Hours of the day.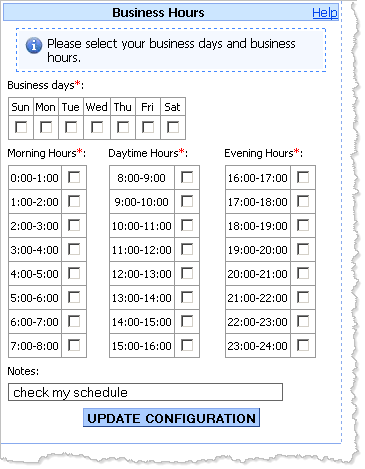 When a call comes in Anveo system evaluates you local weekday and time against selected options and the call will be routed to the designated path. You can use multiple Day/Time Call Controls to implement even complex schedule.
TIP ! If you would like to have some exceptions or different Day/Time schedule for known callers you can place Phone Check activity/control before Day/Time Call Control.